Lifetime ban on gay men donating blood is 'prejudicial'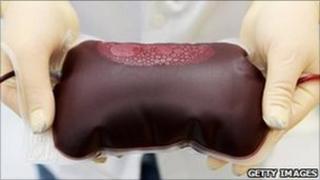 The UUP and Sinn Fein are accusing the health minister of prejudice over his decision to maintain a lifetime ban on gay men donating blood.
Edwin Poots of the DUP, told the assembly on Wednesday that the law in Northern Ireland should not change.
This will put NI out of step with the rest of the UK where a ban following the 1980s Aids threat has been eased.
Under the UK's new rules, men whose last sexual contact with another man was over a year ago, can donate.
This comes after advice from a Government Advisory Committee.
Mr Poots had defended his decision.
He said "all other European Union countries" would continue to operate a lifetime ban along with the US and Canada.
"Safety must be my primary concern and I want to ensure public confidence in our blood supply," he said.
'Safe practice'
His stance has been criticised by the UUP's health spokesman John McCallister.
"This isn't about gay men giving blood, this is about prejudice within the DUP," he said.
"All of the statistics are showing that this is a safe practice.
"We need 9,000 donors each year, we can't afford to let Edwin Poots's prejudice get in the way of this."
Sinn Féin MLA Michelle Gildernew, who is chair of the Stormont health committee, said Mr Poots was wrong to maintain the life time ban and he "needed to reverse" the decision.
"The minister is bringing his own prejudice into play here and has taken this decision without consultation with the health committee," she said.
"This is just feeding into the discrimination that people from the gay, lesbian and bi-sexual community already suffer."
John O'Doherty is from the Rainbow Project, a health promotion organisation for gay men.
He said his one major concern with the decision is whether Northern Ireland will now be able to accept blood donations that come from the rest of the UK.
"Are we expected to be self-sufficient with our own blood supply?," he asked.
"That is something which I think is a huge issue and something I think all should be in opposition to.
"We don't get to decide whose blood we actually take, and if the UK are relaxing their ban, then we have to question whether, with our lifetime ban, we can accept donations from the rest of the UK."