PwC creating 247 highly-paid jobs in Belfast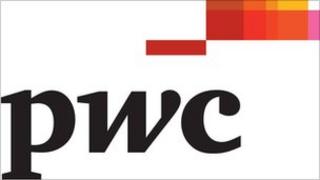 Consultancy and accountancy firm PricewaterhouseCoopers is recruiting 247 highly-paid consultants at its Belfast office.
The company is establishing a centre of excellence in Northern Ireland.
Consultancy services will be offered to clients all over the world in three key areas: technology, capability and training and research.
The new posts will be highly-paid and will bring the total number of jobs at the firm in Belfast to more than 1,000.
The company has expanded its overseas focus from 10% of the consultancy business out of Belfast four years ago, to 60% today. It will now go up again to 80%.
Invest Northern Ireland is offering £1.8m to support the jobs
On Wednesday, business services company Capita announced it was creating 330 new jobs in Belfast.
Capita does back office and customer service work for financial companies.