Ryanair says Aer Lingus does not offer value for money to shareholders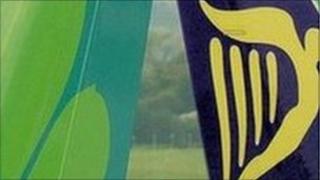 The long-running and bitter dispute between Ryanair and Aer Lingus shows no sign of ending.
The chief executive of Ryanair, Michael O'Leary, has written an open letter to Aer Lingus claiming that the company does not provide value for money for shareholders.
Ryanair currently own 30% of Aer Lingus' shares, and they want a bigger stake.
The letter dated 28 September disputes Aer Lingus' statement that the board are creating value for all of its shareholders by citing a number of recent events.
It says: "You reported cumulative losses of 154m euros and exceptional provisions of almost 400m euros. You closed your Shannon base, only to later reopen it.
"You opened Belfast and Gatwick bases, only to later largely close them. You opened long-haul routes to San Francisco, Washington, Los Angeles and Dubai, only later to close them".
Mr O'Leary went on: "Shareholders have no confidence in your claim that 'our objective is to build durable value (for shareholders)' when almost all of your initiatives over the past five years have destroyed shareholder value."
Ryanair's repeated attempts to buy a larger stake in their biggest Irish rival have been turned down.
One dispute even reached the European Court of Justice.
Aer Lingus did not want to make a comment in response to Mr O'Leary's letter.