Halloween masked gang in seven raids in two hours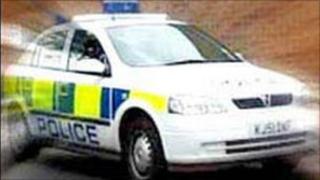 Police have said seven robberies across counties Fermanagh and Armagh on Wednesday night were carried out by the same gang.
In a two-hour period, there were raids at shops in Dernawilt, Brookeborough and Rosslea in Fermanagh, and Middletown and Keady in Armagh.
In each case two men wore Halloween masks and carried a hatchet.
Staff were threatened in each incident, but no-one was injured. Cash and cigarettes were stolen.
The first report to police came shortly before 20:00 BST after an incident at Main Street in Brookeborough. Two men demanded money, but made off when none was handed over.
They then robbed a takeaway in the same street, before leaving the village.
At about 20:30 BST the men went into a shop at Dernawilt Road, Rosslea and stole money and cigarettes. They moved on to steal money at Main Street in Rosslea.
Shortly before 21:30 BST two men went into a filling station at Monaghan Road, Middletown, and stole money and cigarettes.
Stolen car
About 30 minutes later they robbed two shops at Victoria Street in Keady within a few minutes of each other.
The silver Toyota Avensis they used bore the registration number WCZ 1224.
Detectives want to hear from anyone who saw it between Saturday 24 September when it was stolen in Newtownbutler, County Fermanagh, and Wednesday, or saw it anywhere between Brookeborough and Keady on Wednesday.
Police believe that the men travelled from Fermanagh to Armagh through County Monaghan, and have not ruled out the possibility they crossed the border after the second robbery in Keady.
The car has not yet been found.
Anyone with information about the car, or the men in it is asked to contact police on 0845 600 8000, or Crimestoppers anonymously on 0800 555 111.