Jennifer Cardy murder: Robert Black 'used road near body find'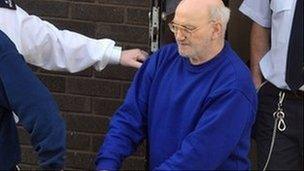 A van driver accused of murdering a schoolgirl told police he often used the stretch of road off which her body was found, his trial has heard.
Robert Black denies murdering nine-year-old Jennifer Cardy in August 1981.
The Balinderry child's body was found in water known as McKee's dam behind a lay-by on the A1 near Hillsborough in County Down.
On Monday, transcripts of Black's interview with police in 1996 were read out at Armagh Crown Court.
Black told police he often used the stretch of road off which Jennifer's body was found.
The London-based dispatch driver, now 64, also said he once tried to sleep in a lay-by on the northbound side of the A1 dual carriageway between Newry and Lisburn.
He told officers that when doing his deliveries he would usually take the M1 motorway from Belfast to Lisburn where he would get on the A1 running to Newry.
He said he regularly used a BP service station at the start of the A1 between Lisburn and Hillsborough.
Black said he once parked up at a lay-by opposite the garage with the intention of sleeping there for the night. But he said he was quickly moved on by the security forces.
"As far as I can remember it was virtually opposite the BP garage," he said.
The lay-by beside where Jennifer was found is two miles further down the A1 toward Newry on the same side of the carriageway.
Detectives showed him a picture of that lay-by during the interview in 1996 but he denied that was the one he once stopped at.
"I think the one I was stopped in that night was a bit smaller," he said.
The trial has already heard the Crown assert that road ordnance maps from 1981 indicate there was only one lay-by on that northbound stretch of the A1.
The prosecution claim Black finished his deliveries in Newry before lunch on the day Jennifer was abducted and, with hours of free time before his evening ferry back to Liverpool from Belfast, explored the countryside off the A1.
It is then, they allege, he abducted Jennifer as she cycled along a country road to a friend's house.
In 1996 police asked Black if he was often left with "time to kill" after he had finished his drops.
"I would have all afternoon and early evening to kill," he replied.
He claimed he would either go to a swimming pool in Belfast or hang out in the bar at the ferry terminal, playing pool or watching TV.
Black was also asked how often he did the run to Ireland.
"Often enough," he replied to officers. "Quite a few times actually, I couldn't put a number on it."
He said he was one of two or three drivers for Poster, Dispatch and Storage (PDS) who did the trip because other colleagues in the firm disliked it.
"I think they were a bit scared about the Troubles," he said.