Irish President Mary McAleese to visit Londonderry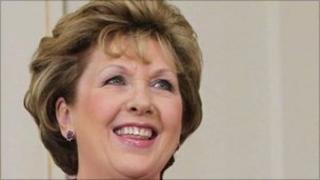 The Irish President, Mary McAleese, will visit Londonderry on Thursday for one of her last official engagements north of the border.
Mrs McAleese will be the inaugural speaker at the first 'Conversations Across Walls and Borders' event in First Derry Presbyterian Church.
The church's minister, Reverend David Latimer, said the event was about using the chuch as a shared space.
He said there was "no one better to help us learn to live together".
In September, Reverend Latimer spoke at the Sinn Fein Ard Fheis, when he described the Deputy First Minister, Martin McGuinness, as "one of the true great leaders of modern times".
It was the first time a Presbyterian minister had addressed delegates at a Sinn Fein party conference.
He also attended a rally in Derry to launch Martin McGuinness's campaign for the Irish presidency.
Speaking before Mrs McAleese's visit Reverend Latimer said he appreciated that some in his own community were resisting his efforts to build bridges.
"When someone like me wants to provide opportunities to bring two communities together not everyone is going to jump at it with excitement, but it is useful to remember that little acorns grow into great oak trees," he said.
"This is an opportunity for ripples of hope to spread out that will influence all sections of our city.
"I think that when ripples of hope, wherever they are emanating from, build up to create a current this can be sufficient to break down the mightiest walls of enmity, bitterness, prejudice and suspicion."