Liked but not loved - why Worthington always had to go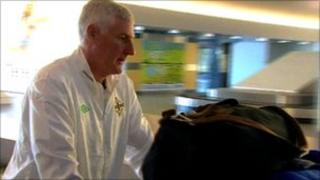 When the end came, it came quickly.
A swift statement released at lunchtime saying that after four-and-a-half years he was stepping down as Northern Ireland manager.
A little over 24 hours later Nigel Worthington will take charge of Northern Ireland for the last time.
Pressure on the Ballymena man had been growing over the last six months but he made sure that when the end did come it was on his terms, at a time of his choosing.
Even his biggest critics would admit he deserved that because of the way he has always conducted himself.
But his final game against Italy already promises to typify Worthington's reign.
He will get the best available team on the pitch - injuries and suspensions as ever taking their toll on a shallow squad - and his team will never lack for endeavour, but they will ultimately fall just short.
That had been the familiar story of the Worthington years. His team won just nine games over the four-and-a-half years.
Qualification had only ever looked like a long shot under the former Norwich City manager. And in the last few months the natives have got restless.
Banners and chants calling for his removal became more and more common at Northern Ireland games as European Championship qualification became a pipe dream.
Worthington was always liked, not loved. He was admired, not adored. And sometimes that doesn't cut it in football.
And last month his predecessor, Lawrie Sanchez, broke the managers' code by saying that the "writing was on the wall" for Worthington.
Even before that Sanchez was always a problem for the man who succeeded him. Sanchez also never truly looked like returning Northern Ireland to the glory days of the 1980s and World Cup qualification.
But he did have the odd moment in the sun that bought the fans' forgiveness for the bad days. Who can forget the historic win over England in 2005? Or the even greater achievement beating Spain 3-2 just before they went on to dominate global football?
Sanchez answered Fulham's call but he had deposited enough good faith with the fans to always remain a favourite.
Despite some early successes Worthington never made the same connection with the Windsor Park faithful.
'Great servant'
Gary McAllister from the Northern Ireland Supporters Club believed the parting was inevitable.
"Nigel had some decent results over his four-and-a-half years but he's also had some bad ones and the pendulum has just swung against him in the last two years," he said.
"It is the right time for a change and I imagine the majority of fans feel the same way.
"I don't like to see anyone hounded out of a job. He's been a great servant to Northern Ireland and Northern Irish football.
"He has the best interests of Northern Ireland football at heart but I just think there comes a point sometimes in football when a change is required."
So who next? Martin O'Neill has been mentioned but the former Aston Villa and Celtic manager is likely to be too expensive.
Worthington's cousin, Brendan Rodgers, is making waves with Swansea in the Premier League and unlikely to want to jump ship to international football just yet.
That leaves men such as former Ipswich manager Jim Magilton, Shamrock Rovers boss Michael O'Neill and the man who took Crystal Palace into the Premier League, Iain Dowie.
Or Sanchez to return? Wouldn't that be the ultimate insult to Worthington?
At least the Irish Football Association have times on their hands - Northern Ireland don't have a game until February.
But even then, whoever does take up the baton will face the same problems as Worthington did. A small squad, losing young players to the Republic and an appalling away record would test any manager.