Downpatrick baseball bat attackers injure man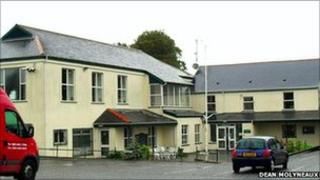 A chef has suffered head injuries after being attacked with baseball bats as he left his place of work in Downpatrick.
Two masked men attacked Seamus Murphy as he got into his car outside Downpatrick Golf Club on the Saul Road at 21:30 BST on Sunday.
They hit him with baseball bats and also broke his car windows. He ran away but was chased by the men.
Mr Murphy has said he will not return to his business because of the attack.
He was hit a number of times about the head before he managed to get to a nearby house.
It is believed money was taken from the car at the time of the attack.
His injuries are not life-threatening.
Mr Murphy said he has a flat at the golf club which he was getting ready to move into, along with his partner and five-week-old baby.
But he said he will not move his family there because he does not feel safe.
The two attackers were described as being of large build and were wearing balaclavas, gloves and combat-style jackets.
They also wore dark trousers and white training shoes.