Belfast bus crash - 26 out of 35 on board submit claims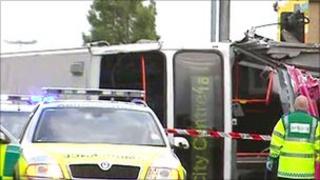 Twenty six of the 35 passengers who were travelling on a double-decker bus which overturned in Belfast have submitted personal injury claims.
The accident happened outside Central Station in August. Two children and a pregnant woman were among the injured.
The number of claims arising out of the accident was revealed in answer to an assembly question from SDLP MLA Dolores Kelly.
The cut-off date for submitting claims is three years.
The bus had been travelling towards Belfast city centre when it mounted the kerb and overturned.
Emergency services had to free the badly injured driver. Up to 30 passengers received treatment at the scene and at hospitals across Belfast.
Translink has confirmed that an investigation carried out by the DVLA revealed there were no mechanical faults with the bus.
The company has also confirmed that it is waiting on the completion of the police investigation.