County Down property firm records £22m loss in latest accounts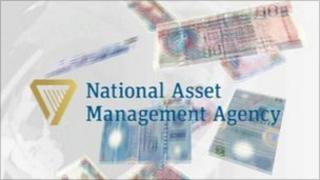 A major County Down property firm has recorded an annual loss of £22m in its latest set of accounts.
The details are in the 2009 accounts of Bangor-based MAR properties.
The company has also confirmed that the Irish government's National Assets Management Agency (Nama) has taken over some of its loans.
Nama has taken control of virtually all land and development loans advanced by the Dublin-based banks, including £3.5bn of property loans in NI.
MAR's bankers include Anglo Irish, Bank of Ireland and AIB.
It also has borrowings from two non-Nama banks, Ulster Bank and Bank of Scotland Ireland (BoSI).
The annual loss means that MAR's liabilities now exceed its assets by £17m.
MAR's auditor states that the firm's ability to continue as a going concern is dependent on the support of its shareholders, existing bankers and the acceptance of a business plan submitted to Nama.
The firm has filed an abbreviated balance sheet which suggests that about £15m of the annual loss is due to writing off debts due from related companies.
MAR has investments in more than 60 subsidiary companies and joint ventures, covering a diverse range of properties in Northern Ireland, Scotland, England and Canada.
Earlier this year one of the subsidiaries, Wen Inns, was placed into administration by BoSI.
In April, one of the joint ventures, Lagmar (Barking), said the value of a shopping centre it bought in London in 2006 had fallen by almost £25m.
In March, another related company, Inisway Properties, was wound up. Its main asset, an Agusta A109E helicopter had previously been sold.
MAR was set up by Noel Murphy, Adam Armstrong and William Rush in 1997.
Mr Armstrong, who now lives in Gibraltar, is not listed as a director although the 2008 accounts indicated that he has personally guaranteed some of the firm's borrowings.