Derry solicitor Hilary Carmichael to fight suspension by the Law Society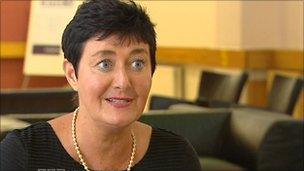 A leading Londonderry-based solicitor, Hilary Carmichael, has said she intends to fight a suspension by the body which regulates the profession in NI.
Ms Carmichael has offices in the Waterside area of the city and recently opened an office in Ballymoney.
The firm, known as Hilary Carmichael Solicitors, has been involved in a number of high profile cases including a legal challenge involving Facebook.
The Law Society has confirmed it has taken over the practice.
In a statement a spokesperson said that the society "has intervened, pursuant to its statutory powers, in the practice of Hilary Carmichael.
"Ms Carmichael's practising certificate has been suspended and the society has taken control of her practice."
In a statement Ms Carmichael said: "I intend to fight this suspension with every ounce of energy I have.
"I am a fine lawyer and have worked tirelessly to protect the rights of the vulnerable."
A spokesman for the Law Society said clients of Hilary Carmichael Solicitors should contact the practice as normal.
He added that if they have any concerns, they should contact the Law Society.
Related Internet Links
The BBC is not responsible for the content of external sites.