Date set for Northern Ireland digital switchover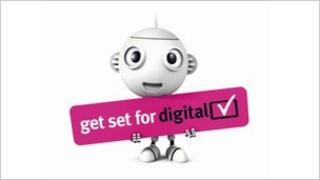 The date for the digital TV switchover in Northern Ireland has been announced.
Analogue television will close on 24 October 2012 and be replaced by a stronger Freeview signal.
This should reach virtually all Northern Ireland households, including half-a-million viewers who cannot receive it now.
Viewers still watching analogue TV, about 100,000 households in Northern Ireland, need to switch to Freeview, cable or satellite in the coming year.
Freeview coverage in Northern Ireland is to be boosted from 66% to 98% of households, Digital UK has said.
On 10 October 2012, two weeks before switchover completes, analogue BBC Two will be turned off as a final reminder to viewers who have yet to switch.
Denis Wolinski, Digital UK's national manager in Northern Ireland, said: "Today is an exciting day for television in Northern Ireland.
"This announcement paves the way for the end of analogue TV and the dawn of a fully digital age in which everyone can enjoy more channels, more choice and better pictures.
"Digital UK will ensure people know what to do, and that advice and practical support are available to those who need it."
Analogue signals will also be turned off in the Republic of Ireland on 24 October 2012.