Finucane family 'lured to Downing Street under false pretences'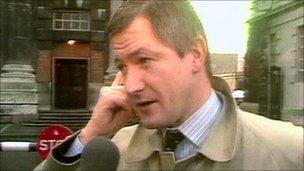 The widow of murdered Belfast solicitor Pat Finucane has said the family was lured to Downing Street "under false pretences".
Mr Finucane was shot dead by loyalist paramilitaries in his home in 1989.
On Tuesday, Mrs Finucane walked out of a meeting with David Cameron after he told her a QC would review papers in the case but there would be no inquiry.
Mrs Finucane said the family was let down by a "disreputable government led by a dishonourable man".
She described the meeting as an "ordeal" during which she was "humiliated and insulted".
When he was prime minister, Tony Blair agreed to set up an inquiry, but a fresh investigation was never established.
In 2004, the then Northern Ireland Secretary of State Paul Murphy announced his intention to hold an inquiry under the new Inquiries Act.
However, the Finucane family are opposed to the probe being held under this legislation, which they say makes the inquiry accountable to the minister responsible, rather than to parliament.
They have instead called for a fully independent public inquiry.
Mrs Finucane said she could not believe they had been invited to the prime minister's home just to be refused something which had been offered many years ago.
"The fact that David Cameron did so and in such a public fashion ranked as one of the most cruel and devastating experiences of my life," Mrs Finucane said.
"His actions prove beyond doubt that the word of the British prime minister is not to be trusted," she said.
"The case of Pat Finucane shows that British prime ministers no longer keep their promises."
She said she had no faith in the review and wanted an independent inquiry.
The family claimed that in a recent telephone conversation between a senior Northern Ireland Office official and their lawyer Peter Madden, it was stated that Mr Cameron was confident that they would be happy with what was on offer.
Mr Cameron offered a review of all documents related to the case by senior QC Sir Desmond DeSilva.
On Friday, the Northern Ireland Office said: "The prime minister invited the family to Downing Street yesterday so that he could apologise to them in person.
"The secretary of state set out the government's position in his statement on Wednesday.
"Sir Desmond is an internationally respected QC who will carry out his work completely independently of government.
"We strongly believe that this will be the quickest and most effective way of getting to the truth."
An earlier investigation carried out by John Stevens found that there had been collusion in Mr Finucane's death.
Related Internet Links
The BBC is not responsible for the content of external sites.