Cost of policing parades and protests almost £6m in five months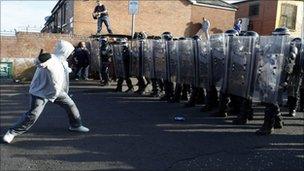 The bill for policing parades and associated trouble reached just under £6m in five months, the Policing Board has been told.
The cost of policing serious disturbances in east Belfast and Ballyclare was not included.
Policing board members said the figures were "shocking".
More than 3,134 police officers, almost half the total number employed by the PSNI, were working on policing marches on 12 July.
Members of the Policing Board's human rights and professional standards committee were briefed on the breakdown on Friday.
The SDLP chair of the committee Conall McDevitt said: "Whilst policing costs are broadly similar to those of previous years these figures are still shocking.
"Given current pressures on the policing budget and the public purse I have no doubt the wider community will share the concerns of board members on this issue."
The £5.7m bill covered the costs from April to August 2011.
It covers only parades and disturbances linked to them and excludes trouble associated with other issues.
The most significant cost for a single parade was to police an Orange Order parade near Ardoyne on 12 and 13 July.
Seventy per cent of parades need police cover and loyalist parades were most expensive, with the bill coming in at more than £5m.
Republican marches cost about £255,000.
Senior police officers have repeatedly raised the high cost of policing parades and urged politicians to find an mechanism to resolve more contentious marches.
Related Internet Links
The BBC is not responsible for the content of external sites.