Ormeau Baths Gallery 'likely to close' over financial pressures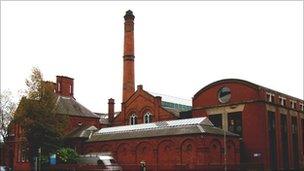 The BBC has learned that Belfast's main public art gallery is considering closure.
The Ormeau Baths Gallery was opened by the Arts Council in 1995 but is understood to have financial problems.
The gallery board met on Thursday to consider closing down but will first consult insolvency accountants to work out the legal implications.
However, it is understood the financial plight makes closure of the gallery highly likely.
The gallery was created 16 years ago in what had been a public bathhouse and swimming pool, which had narrowly escaped demolition.
It has been getting £300,000 a year from the Arts Council but has struggled to raise enough private sponsorship to supplement its grant.
In the past it hosted high profile exhibitions of the work of leading artists such as Gilbert and George and Yoko Ono.
However it's understood the financial plight makes closure highly likely.
The gallery closed temporarily in 2006 when the Arts Council withdrew funding after a disagreement with its board and staff. It later reopened with a new board.
Recently it had become known that there were financial difficulties, but a decision to close the doors, would shock the art world.