Colm Murphy and Seamus Daly to face Omagh bomb retrials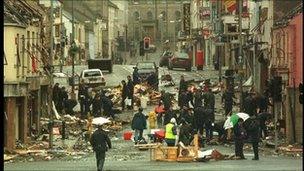 Two men whose appeals against being held liable for the 1998 Omagh bomb were upheld in July, are to face civil retrials.
It had been thought that of the two - Colm Murphy and Seamus Daly - only Mr Murphy would face a retrial.
Two other men whose appeals were dismissed in July, are to seek to go before the Supreme Court in London to challenge the rulings.
They are jailed Real IRA leader Michael McKevitt and Louth man Liam Campbell.
Twenty-nine people - including a woman pregnant with twins - were killed in the Omagh bomb.
On Friday, barrister Brian Fee QC said both McKevitt and Campbell now intended to apply to contest the Court of Appeal's decision at the Supreme Court.
He declined to set out any potential grounds of challenge until further legal instructions have been received.
During the hearing at the Court of Appeal the plaintiffs were also awarded costs against McKevitt and Campbell.
Both men are legally aided in a case where fees have been estimated at running into several hundred thousand pounds.
No-one has been successfully criminally convicted of the Real IRA bomb attack which devastated the County Tyrone market town.
But McKevitt, a convicted Real IRA leader serving a 20-year jail sentence; Campbell, a farmer from County Louth currently fighting extradition to Lithuania over an alleged arms smuggling plot; Mr Murphy, a Dundalk-based builder and publican; and Mr Daly, from Culaville, County Monaghan, were all found liable for the bombing in a civil ruling delivered in June 2009.
Mr Justice Morgan, now Northern Ireland's lord chief justice, ordered them to pay £1.6m in compensation.
But in July this year, three judges in the Court of Appeal upheld the appeals of Mr Murphy and Mr Daly. At the time they ordered that Mr Murphy should face a retrial.
Mr Daly will now also be retried, despite his barrister, Mary Higgins QC, claiming that it would be unfair and allow the plaintiffs "a second bite at the cherry".
Reasons for the judge's decision will be given at a later stage.
Lawyers for the Omagh families who brought the action are also considering going to the Supreme Court over the level of damages awarded.
The Court of Appeal had rejected their bid to be awarded exemplary damages.