Presidential hopeful Dana comforted after 'vile' claim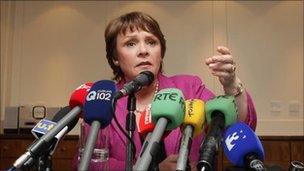 Irish presidential hopeful Dana Rosemary Scallon reportedly had to be comforted by other candidates following a televised debate on Wednesday night.
During the debate on RTE Two's Prime Time, Ms Scallon read from a statement, pledging legal action over "malicious allegations" against her family.
The visibly upset former singer did not say what the claims were.
She is one of seven candidates in the Irish presidential poll which will take place later this month.
Ms Scallon, who won the Eurovision Song Contest in 1970, previously stood for the presidency in 1997 and is also a former member of the European parliament.
"It has come to my attention that yet further allegations, this time of a most untrue, malicious and vile nature, have been levelled against a member of my family," Ms Scallon said.
"Let it be known that lawyers have already been instructed to forensically investigate a particular communication disseminating this vile and false accusation, which attempts to implicate me and destroy my good character."
The Derry-born candidate added that lines of inquiry were being pursued with "prosecution authorities" in the United States.
"May I assure the Irish people that I will leave no stone unturned to expose the malicious intent at the heart of these untrue allegations," Ms Scallon said.
She has previously faced allegations over her decision to take US citizenship in the 1990s but has stressed that taking an oath of allegiance to the US constitution did not infringe her Irish citizenship.
Fellow independent candidate David Norris, who has also faced significant scrunity, said he had felt sorry for Ms Scallon during the debate and had gone to comfort her afterwards.
But he added that he had no knowledge of the allegations she was talking about and therefore could not comment.
The six other candidates in the Irish presidential race are Fine Gael's Gay Mitchell, Labour's Michael D Higgins, Sinn Fein's Martin McGuinness and independents Mary Davis, Sean Gallagher and Mr Norris.
Related Internet Links
The BBC is not responsible for the content of external sites.