Dana rejects 'sexual' allegations made against relative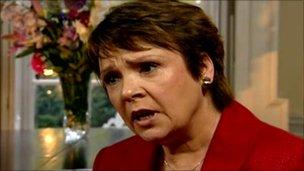 Dana Rosemary Scallon has vowed to continue her Irish presidential campaign despite "malicious lies" spread about a member of her family.
Ms Scallon told TV3 News that she had been warned by a freelance journalist that allegations of a "sexual nature" were due to appear in the Irish press.
She said that prompted her to make a statement during a presidential debate on RTE on Wednesday.
She told viewers that she was taking legal action over the claims.
Although she initially refused to state what the "untrue, malicious and vile" allegations were, she admitted on Friday that they were of a sexual nature involving a relative.
She also referred to a "threatening" email she had received, which is understood to have originated in the US.
"I had received an anonymous email on the Saturday night. It wasn't signed," she said.
"I won't be able to share all that was in the mail. It said 'hahahahaha the b**** is finally getting what she deserves' and went on from there to make false accusations."
Ms Scallon said the claims were part of an "orchestrated campaign" against her.
There had been speculation that she may withdraw from the presidential race, as she has not been campaigning for the past two days.
But she vowed to continue her campaign.
Ms Scallon did not go into the details of the claims, but insisted that she was sure they were false.
"I know it is not true, the first time it was ever raised was in a court case in a family dispute. The next time it was raised was during my campaign," she added.
She said she believed it was an attempt "to destroy" her character.
"The fact that no action was taken by the alleged victim, to me this proves that it is false," she added.
Ms Scallon also defended her decision to read out a statement during RTE's Prime Time debate that rejected the claims, without clarifying what they were.
"I made it because false and malicious lies and accusations were being made and I had to respond because I was under immense pressure from a freelance journalist.
"I was told there would be extensive coverage over the next few days. I had to put it to rest," she added.
She told RTE viewers on Tuesday: "It has come to my attention that yet further allegations, this time of a most untrue, malicious and vile nature, have been levelled against a member of my family.
"Let it be known that lawyers have already been instructed to forensically investigate a particular communication disseminating this vile and false accusation, which attempts to implicate me and destroy my good character."
Ms Scallon reportedly had to be comforted by the other candidates following the debate.
On Friday she rejected claims that the statement was a publicity stunt.
"I would never try to bring shame to my family name," she added.
The Derry-born candidate added that lines of inquiry were being pursued with "prosecution authorities" in the United States.
She is one of seven candidates whose names will appear on the ballot paper on 27 October.
Ms Scallon, who won the Eurovision Song Contest in 1970, previously stood for the presidency in 1997 and is also a former member of the European parliament.
She has previously faced allegations over her decision to take US citizenship in the 1990s, but has stressed that taking an oath of allegiance to the US constitution did not infringe her Irish citizenship.
The six other candidates in the Irish presidential race are Fine Gael's Gay Mitchell, Labour's Michael D Higgins, Sinn Fein's Martin McGuinness and independents Mary Davis, Sean Gallagher and Mr Norris.
Related Internet Links
The BBC is not responsible for the content of external sites.