Masked hammer gang ransacks Larne home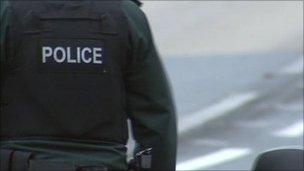 A masked gang of five men - two of them armed with hammers - have ransacked a house in Larne.
The attack happened in the Fairway area shortly after 21:30 BST.
About 40 minutes later police attended a report of a badly damaged car at Brustin Brae Road which is believed to be linked to the other incident
A 35-year-old man has been arrested on suspicion of aggravated burglary.