NI peace politicians at Eta conference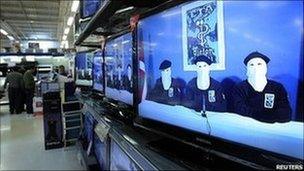 Politicians involved in the Northern Ireland peace process have called on the militant group, Eta, to declare a definitive end to all armed action.
Negotiators attended a conference in northern Spain on the long-term Basque separatist conflict.
Among them were Sinn Fein president, Gerry Adams, former Taoiseach Bertie Ahern and Tony Blair's former chief of staff, Jonathan Powell.
Former UN chief Kofi Annan was among senior statesmen attending.
"We call upon Eta to make a public declaration of the definitive cessation of all armed action," Mr Ahern said after the one-day conference, which did not include the Spanish government or the outlawed Eta.
"If such a declaration is made we urge the governments of Spain and France to welcome it."
Eta, the armed Basque separatist group, called a ceasefire in January after more than four decades of violence.
But Spanish politicians rejected the move, saying Eta remained a potential threat and must disband for good.
Eta has fought for an independent Basque homeland since the 1960s.
The group - listed as a terrorist group by the EU and America - has killed some 800 people.
Rumours of a potentially definitive statement have been circulating for several weeks.
The Basque conflict has claimed more than 1,000 lives in its 43-year history.