Jim Allister says NI universities must address Protestant imbalance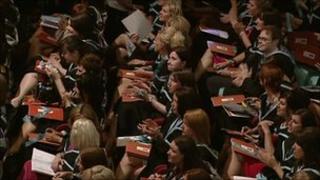 The independent MLA Jim Allister has said Northern Ireland's universities must do all they can to encourage more admissions from Protestant students.
He was responding to figures from the Department of Employment and Learning which showed that just a third of the 35,000 students attending local universities are Protestant.
There are considerably more Catholic students at the two universities.
Mr Allister described the imbalance as "alarming".
"Of particular concern to me is the Jordanstown campus whereas there are 3,800 students from a Protestant background from NI, there are 6,600 from a Catholic background," he said.
"The Jordanstown and Ulster University situation is worsened by the fact that there's a total imbalance in terms of the number of students from the Republic of Ireland.
"Whereas at Queen's there is essentially an equilibrium between the same number of students from GB and the same number from the Republic - when you go to the University of Ulster, it is five times the number from the Republic as opposed from GB.
"There are 2,800 students from the Republic of Ireland studying at the University of Ulster which suggests to me that the UU for some strange reason is being more successful in recruiting Republic of Ireland students that it is in recruiting local Protestant students from the controlled sector."
Concern
Mr Allister said he would be calling on the local universities to address the imbalance to ensure the situation does not worsen.
He said another big concern was Protestant children not attaining the grades they needed to get into university.
"We have had research that shows that," he said.
"I certainly would like to see that addressed and more and more people from both communities, particularly from that neglected community, the Protestant boys' community in working class areas, being encouraged to work themselves up through the system.
"Whether, in turn, that eventually affects the university figures, we will see.
"But whether it does or doesn't off its own right, it requires to be addressed."
A spokesman for the University of Ulster said it does outreach work to encourage students from all backgrounds to study on its campuses.
He said: "It is a sad reflection of society here that the religious composition of our student population should be a matter for public comment.
"The University of Ulster is open to everyone and provides a first class educational experience for its students."
The figures were released by Employment and Learning Minister Stephen Farry following a question tabled by MLAs Jim Allister and Gregory Campbell.
Less than a fifth of students at Magee College in Londonderry are Protestant.
There are considerably more Catholic than Protestant students at both Queen's University and the University of Ulster.
Overall, there are fewer Protestant school leavers but those who go to university are much more likely to study in the rest of the UK.