Jennifer Cardy murder 'unique in Northern Ireland'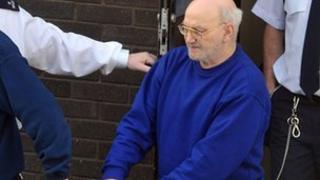 The killing of Jennifer Cardy is unique in the history of child murder in Northern Ireland, a court has heard.
It's the only case in the last 40 years of a girl between four and 14 being abducted in a public place, driven away and killed and the only unsolved murder of any girl in that age range.
The revelations came as the prosecution closed its case in the trial of Scottish serial killer Robert Black.
He denies abducting and murdering Jennifer in August 1981.
Earlier, Armagh Crown Court heard that serial killer Robert Black told police that part of him always knew his sexual interest in young girls was wrong.
The jury has heard tapes of police interviews with him carried out in 2005.
He told a detective he was not proud of his history of abusing girls.
He said: "There's a part of me that knows it's wrong; I shouldn't be doing things like that; shouldn't even be thinking things like that.
"Then another part of me thinks, 'you like it, go on'."
He again discussed the details of a "fantasy" he has about abducting and abusing young girls.
The prosecution say the "fantasy" is, in fact, a coded confession.
The Cardy family listened from the public gallery, and were visibly shaken, as he outlined how he would justify the abuse in his own mind.
For the first time in the 16 days of the trial, Jennifer's mother, Pat, was no longer able to listen to the harrowing evidence and, in tears, she was helped from the courtroom.
Black again refused to acknowledge his guilt for any of the other murders he has committed.
Asked if he had ever turned his fantasy into reality, he replied: "Not until I was caught in 1990".
This was a reference to the day, nine years after Jennifer's murder, when he was caught in Stow in the Scottish borders with a six-year-old girl trussed up in his van.
Anguish
This eventually led to him being convicted of three child murders, an abduction and an attempted abduction.
He insisted that, up until then, he had resisted the urge to turn his fantasy into reality, saying: "I would talk myself into it and then talk myself out of it.
"I used to think 'could I, should I, will I?' but it usually went no further than that - too many people around or whatever - until 1990 when the roof fell in."
He admitted that he had once persuaded two young sisters to get into his van near Carlisle.
But, he maintained, he had driven them around for a while before letting them go unhurt.
He said he was conscious of the mental pain his abuse had caused his victims.
He gave the example of a girl he abused while he was baby-sitting her when he was 19.
He told the detective how he had seen her years later and she had become what he described as "obese".
"It crossed my mind that she had let herself go like that because of what I did to her," he said. "So she would be unattractive to men."
He was asked if that was why he had killed his other victims after abusing them, to save them from mental anguish, but again he denied having killed any young girls.
The case continues.