Gerry Adams welcomes Eta ceasefire announcement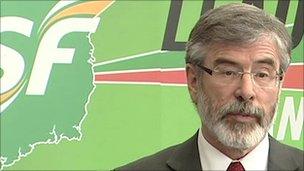 Sinn Fein president Gerry Adams has said he welcomes the decision by the Basque separatist group Eta to call a "definitive cessation" to its armed campaign.
In a statement, Eta called on the Spanish and French governments to respond with "a process of direct dialogue".
Mr Adams said he was "hopeful" talks would go ahead.
The declaration would bring an end to Eta's 40 year-campaign of violence.
More than 800 people were killed by the organisation.
In its statement, Eta said "a new political age is opening" in the Basque Country.
"We face a historic opportunity to obtain a just and democratic solution to the age-old political conflict," it said.
"Eta has decided on the definitive cessation of its armed activity.
"Eta makes a call to the governments of Spain and France to open a process of direct dialogue which has as its aim the resolution of the consequences of the conflict and thus the conclusion of the armed conflict.
"With this historic declaration, Eta demonstrates its clear, firm and definitive purpose."
"I very much welcome the decisive and the positive terms of the response from Eta," said Mr Adams.
He said there was a range of confidence-building measures that could be used to deal with the many consequences or the symptoms of the conflict.
"Dialogue is essential, it is what opens up all the doors, and then all of these matters - victims, demilitarisation, prisoners, the rights of political parties, the rights of citizens to vote for political parties of their choice, reconciliation - all of these issues need to be on the agenda for inclusive discussions," he said.
Mr Adams said his own relationship with Eta went back to "around the time of the Good Friday Agreement".
"Some good people in the Basque Country spotted what was happening in Ireland, and got in touch with Sinn Fein through Fr Alec Reid," he said.
"Over the last 12 years, Sinn Fein leaders, myself included, have met many people in the Basque country and some people from the Spanish state, and I'm convinced that they formed a view there needed to be a peace process.
"One of the big lessons of our success and our process still needs to be nurtured and nourished and worked at was that we developed an alternative.
"We worked on the assumption and logic that those serious people who take up armed action or who defend armed actions do so because they believe there is no alternative, so we started to work at whether an alternative could be put together in the Basque country.
"I think that is what persuaded Eta and others of the merits in building a peace process."