Cork family parts with Titanic victim's message in a bottle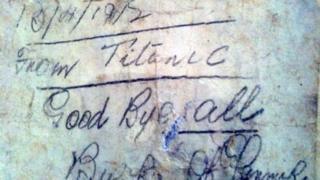 A message in a holy water bottle which was thrown overboard by a Titanic victim while the ship sank has now been donated to a heritage centre in Cork by his family.
Jeremiah Burke, 19, from Glanmire in Cork was given the bottle at the quayside in Cobh by his mother before he set off for the US.
As the Titanic sank in the early hours of 15 April, 1912, he threw the bottle and message into the sea.
The bottle was washed ashore a year later in Dunkettle, only a few miles from his family home.
The note, which read "From Titanic, goodbye all, Burke of Glanmire, Cork" has remained in the Burke family for nearly a century.
Now one of Jeremiah's nieces, Mary Woods, has donated it to the Cobh Heritage Centre.
Ms Woods, who is a councillor, said Jeremiah had been travelling to America with his cousin Nora Hegarty, 18, to meet up with his two sisters who had left for Boston a year previously.
Both Jeremiah and Nora drowned in the tragedy.
The councillor told the Irish Independent the bottle had been found with one of Jeremiah's bootlaces tied to it.
"Jeremiah's mother didn't know for days what had happened to him," she said.
"She was at a removal several days later when a person came up to her and said 'I'm sorry for your loss'.
"It was only then that she found out what had happened.
"She died of a broken heart within the year, before Jeremiah's letter turned up on the beach."
The note will now form part of the Titanic exhibition in the Cobh Heritage Centre along with the photographic and military medals of Titanic photographer Fr Frank Browne.