Man stabbed in buttocks by gang in Belfast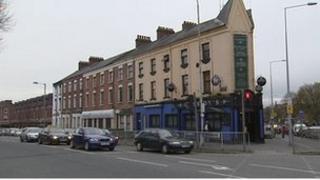 Two men have been taken to hospital after they were stabbed by a gang in Belfast.
The pair, aged 19 and 18, were attacked by four men just after 01:15 GMT on Sunday on the Limestone Road as they made their way home from a fancy dress party.
One was stabbed in the back, the other in his shoulder and buttocks.
Detectives have appealed to anyone with information to come forward.
One of the victims has been released, but the other remains in hospital, where he is being treated for a punctured lung.