30% rise in calls to Nexus after report of abuse at NI hospitals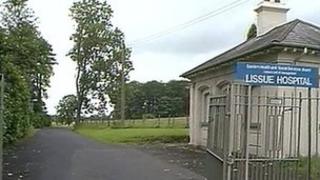 A group which provides counselling for sexual abuse victims has said the number of people contacting it has risen by 30% since abuse at two NI hospitals was highlighted.
Last week, it emerged Lissue Children's Hospital and Forster Green Hospital, were the subject of a 2009 report on allegations of abuse in the 1980s and 90s.
Nexus has said it is seeing 270 clients a week across Northern Ireland.
It said it had 370 on its waiting list.
Helena Bracken from Nexus said she believed this was "just the tip of the iceberg" and that sexual abuse was "endemic in our society".
"Organisations such as Nexus work with men and women who have been sexually abused," she said.
"We hear all the time in confidential circumstances about the horrific abuses that people have suffered.
"We would know from them that there is a lot more that has happened out there and still goes on.
"Right across Northern Ireland in places such as Derry and Newry, men and women are waiting for up to nine months to get in our door to get some help. It is absolutely unacceptable."
It has been confirmed the Stormont executive's junior ministers are to meet with those who suffered abuse at Lissue House and Forster Green Hospital in the 1980s and 1990s.
They will discuss what part they could play in any future abuse inquiry in Northern Ireland.
Ms Bracken said she thought this was a "positive step".
"That they are acknowledging what happened to these individuals is very important," she added.
On Monday, a former patient at Lissue House Children's Hospital near Lisburn said his memories of the abuse that took place there are frightening.
John Rooney, now a boxing promoter in London, said he is particularly haunted by what happened to a friend who suffered from anorexia.
The boy, named Eamon, was weighed every morning and made to stay in bed if he had not gained any weight.
He was also frequently beaten by one male nurse.
Mr Rooney said his friend, who was not allowed to speak to his parents if he did not gain weight, later died at the age of 18.
Last week, the Irish News published details about a report into abuse at the children's hospital and at Forster Green in Belfast in the 1980s and 1990s.
The 2009 review, by an independent health consultant, was never published.