Eurozone crisis looms large in Ireland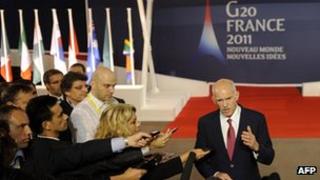 The old adage, 'a week is a long time in politics', has nothing on developments in the Eurozone.
The spectre of a Greek default and euro exit is casting a shadow over a meeting of G20 leaders and comes only seven days after Euro zone leaders reached an agreement with Greece on reforms to put the nation back on track.
"People might think it's far away and it isn't their problem, but it is very much their problem, even though the United Kingdom is not part of the euro, we'll still be affected," warned Northern Ireland First Minister Peter Robinson.
Market turmoil is also affecting the Republic of Ireland.
"We are very much at the whim of what happens internationally," said Aidan Lambe, a director of technical policy at the Institute of Chartered Accountants (ICAI) in Ireland.
"Any uncertainty at all in the international environment has particular negative consequences and the informed view seems to be that Ireland's recovery will be export driven, so anything that causes prolonged uncertainty in the international context will obviously have an adverse impact on the export sector."
Jelly beans
Exporting to some 50 markets, Peter Cullen of Dublin's Jelly Bean Factory is all too aware of any shock waves emanating from the euro crisis.
"We make about 11 million jelly beans a day and export 97% of everything we produce. We are very concerned about the uncertainty," he said.
"If there is movement in a currency that is gradual, maybe over six months to a year, you can tend to cope with that, but you can't cope with very sudden changes and they are the things that worry us."
For Brendan Halligan, an economist and chairman of the Institute of International and European Affairs, the current crisis was to a certain extent predictable given monetary union in the absence of economic union.
"We're at the stage now where there has been irresponsible behaviour in a number of economies, most notably in Greece and, to put it mildly, all the chickens have come home to roost.
"Well they are roosting now pretty close to us, they are up on the table, so we have to address this question in Greece and I think it will be addressed."
Under Irish law, a referendum is needed to agree changes to an EU treaty.
However, a recent poll showed that the Irish electorate is likely to reject any attempt to extend the European Union's powers to deal with the region's financial crisis.
"Of course the Irish don't like treaty changes and of course no-one likes fighting a referendum" Mr Halligan said.
"I don't think there will be a need for a treaty change in the immediate future, but coming down the line, perhaps five or six years from now, there will be a need for a referendum, that's indisputable."
And while efforts to address the Greek crisis continues, Mr Halligan warned that the European debt web may result in a bigger casualty.
"I think Greece will be solved, there is a question of course of Italy, which is Greece multiplied by six or seven.
"I think we can get out of this providing we can keep Italy off the table, whether we can or not is another matter."