How Sean Quinn ended up bankrupt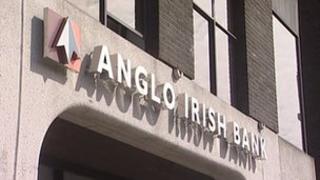 Fermanagh business man Sean Quinn has been declared bankrupt at Belfast High Court despite the majority of the 64-year-old's holdings and debt being from the Irish Republic. So why has this happened?
The personal bankruptcy laws in the Republic are onerous - it typically takes 12 years to be discharged from bankruptcy, though in some cases it can be five.
In the Republic you will also lose your pension. As a result there are a tiny number of bankruptcies in the Republic - just 30 in 2010.
In Northern Ireland and the UK you can be discharged from bankruptcy after a year.
You will also keep your pension.
As a result the courts would process 30 bankruptcies in a slow week.
This means that people with huge debts in Ireland are moving to the UK to take advantage of those differences.
The Cork developer John Fleming who owes about 1bn euros was discharged from bankruptcy this week. He had moved to live in Essex.
Contracts for Difference (CFD) were Quinn's undoing - in essence they are financial products which allow you to bet on shares without having to own the shares. In that respect they are a derivative - they derive their value from the underlying share.
CFDs have three main advantages:
Privacy - your name does not appear on the share register
Tax - you don't have to pay stamp duty as you would if you bought the shares
Leverage - As you are not buying the shares you don't have to put down the full amount of the money. You can 'lever- up' with borrowings.
But with leverage always lies danger.
Quinn was betting that the price of the shares would rise and he would profit from the difference between the price at which he bought the derivative contract and the new price. Hence 'contract for difference'.
But when the Anglo Irish Bank share price nosedived Quinn was in trouble. He was hit with a series of 'margin calls' which meant he had to keep putting up more and more of his money.
Eventually things got so bad he had to crystallise his losses by buying the shares outright - which he did by borrowing the 2bn euros from the Anglo Irish Bank.
And it's due to those borrowings that he's bust.