Up to eight graves damaged by stolen car in Antrim cemetery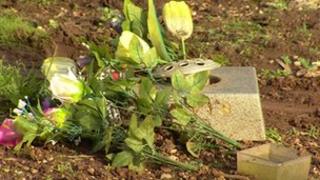 Up to eight graves have been vandalised after a stolen car was driven through the old Antrim cemetery.
The incident was reported to police shortly before 13:30 GMT on Saturday.
Three men who were in the car at the time escaped on foot. The vehicle, which was reported stolen from Kingsmere Avenue in Belfast on Saturday has been taken away for examination.
Antrim Ulster Unionist councillor Adrian Watson said some families saw the damage on Sunday.
"About eight graves have significant damage, the head stones have been knocked down and broken, marble surrounds from the graves have been broken as well," he said.
"There has been evidence that a vehicle of some sort has got stuck on top of some of these graves and that was removed last night by the PSNI.
"One family had visited the graveyard to pay their respects to a relative. They were just disgusted and very upset by it and naturally so.
"It is just unfortunate that they had to discover it, it has been a very difficult time."
Mr Watson said the council had tried to tidy up the damage around the gravestones.
"When you hear that some individuals have stolen a vehicle and decided to run amok in Antrim cemetery and cause this damage, it is just disgusting," he added.
"They are just total thugs and that makes it even worse for the families that it hasn't just been an accident. It has been malicious damage caused by these thugs."