Margaret Ritchie wants fish quotas set by Stormont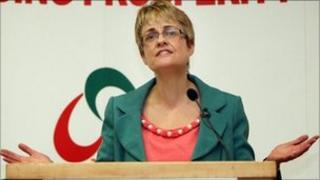 South Down MP Margaret Ritchie has called for Stormont to take responsibility for managing fish stocks.
Ms Ritchie was speaking as MPs prepare to debate reforms on the Common Fisheries Policy.
She said that, whatever the outcome, the livelihoods of fishermen in places like Ardglass and Kilkeel needed to be protected.
The policy will be reviewed by the European Commission next month.
Ms Ritchie met with the minister responsible for fisheries last month and stressed the importance of more local control in the industry.
"Both Ardglass and Kilkeel in my constituency rely on fishing to boost the local community - both offshore in fishing and onshore in fish processing," she said.
"These towns have been subject to European Union regulations over the past number of years which have resulted in reduced quota allocations for fish species which has been particularly damaging for valuable species such as nephrops.
"These proposals combined with other measures, including days at sea restrictions and the Cod Recovery Plan, are often based on incomplete and inconclusive evidence.
"We must see earnest intent to devolve power to the regions, whilst making decisions that enable the fishing industry to be sustained and for livelihoods to be maintained.
"We hope that the minister will be able to achieve success at the negotiations in Brussels in a month's time which will result in the maintenance and growth of not only the fishing industry, but also the local economy."