Engineers 'destroying Northern Ireland coasts'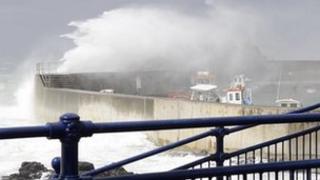 Engineering solutions to coastal erosion are often damaging, often don't work and usually cost a lot.
That was the blunt message a coastal geologist gave to an international conference on coastal management in Belfast.
Professor Andrew Cooper told an audience of civil engineers that some of the solutions coastal engineers used to tackle erosion and rising sea levels "are making our response all the more difficult".
He described coastal engineering as a "bankrupt profession", telling the conference: "The reason engineers should not be involved in coastal management is that they inevitably promote an engineering approach and the more sustainable and environmentally friendly approaches are not even considered."
He told the BBC: "Most local authorities call on their consulting engineers for advice.
"If you're an engineer, you've got a certain number of 'products' that you sell so the chances are that you're going to come up with an engineered solution.
"We think that there ought to be other options. For example, we can sometimes live with the risk from coastal erosion.
"In many places there are engineering structures where there is no need for them. In some cases you can move the infrastructure at risk and best of all you can choose not to build in places where you shouldn't be building."
Professor Cooper, from the University of Ulster, told the conference that in Northern Ireland and all around the world, coasts were capable of looking after themselves.
He said building walls and sea defences destroy a naturally functioning healthy ecosystem and claimed that when it all goes wrong the engineers resort to blaming storms.
He claimed that engineers have destroyed beaches on a global scale and that the short-term perspective they take is unsustainable, environmentally damaging and costly.
"The problem is not in the design and construction of engineering structures on the shoreline, but the environmental impact of these structures".