Education Minister John O'Dowd won't cross picket line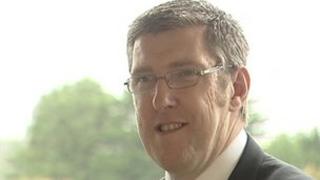 Education Minister John O'Dowd has said he will not cross the picket line during next Wednesday's strike.
Thousands of teachers and public sector workers plan to walk out on 30 November over cuts to pensions and budgets.
The Sinn Fein MLA said he supported the strikers but appreciated the disruption it would cause.
A number of teaching unions, including the National Association of Head Teachers (NAHT), are taking strike action.
A week ago, members of the Unite union employed by Translink voted to join strike action - meaning bus and train services could be severely disrupted.
A number of other unions have also voted in favour of the stoppage.
In Unite's three main aggregate ballots of health, civil service and local authority workers, 75% of Unite members voted in favour of action on a turnout of 31%.
More than two million workers across the UK are expected to join the strike over changes to public sector pensions.