Limavady man jailed for glassing 'Good Samaritan'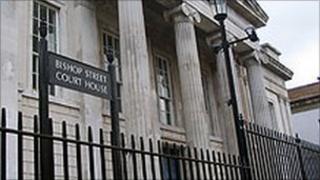 A 21-year-old man from Limavady has been jailed for four years for glassing a "Good Samaritan" in the face.
Judge Piers Grant told Ciaran O'Brien, from Bawn Court, that the injuries he inflicted on his victim were "horrific and outrageous".
Londonderry Crown Court was told that the victim had tried to intervene after he saw O'Brien behaving aggressively towards his girlfriend.
He needed 60 stitches, and will be disfigured for the rest of his life.
Judge Grant said that the victim was a rear-seat passenger in a car which stopped beside O'Brien in September last year.
The victim wound down his window and attempted to get out and help O'Brien's girlfriend, but was unable to do so because of child locks.
O'Brien then lunged at the victim through the car window, and stabbed him twice with the glass.
When a woman ran to help the victim, O'Brien kicked and punched her to the ground and then ran home.
The police later found him hiding in a wardrobe wearing a bloodstained t-shirt.
Judge Grant described the victim and the other passengers in the car, as well as the woman O'Brien assaulted, as decent citizens and Good Samaritans who were trying to help O'Brien's girlfriend.
He said it was a cowardly and vicious attack on a defenceless man who was effectively a captive in the car.
He said it was initially feared the victim might lose the sight in his left eye, and warned the courts would take a very serious view if anyone directed adverse attention to the victim's facial scars in future.