All must confront our painful past says UUP man John McCallister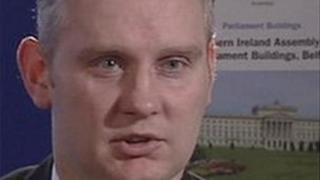 Both unionists and republicans have "hard and painful" questions to ask themselves about the past, an Ulster Unionist MLA has told a Sinn Fein conference.
UUP deputy leader John McCallister was speaking at a Uniting Ireland conference in Newry on Saturday.
He said that in the history of Northern Ireland, unionism "fell short".
"This is a part of our heritage that we have to confront and recognise," he told the conference.
"It is not easy and it certainly isn't without political risk. But to build reconciliation in Northern Ireland and throughout the island, it has to be done."
If unionism failed to address Edward Carson's warning that a Catholic minority should have nothing to fear from a Protestant majority in a new Northern Ireland, then republicanism also fell short of the words from the 1916 Declaration, Mr McCallister said.
Their actions between 1969 and 1998 told a "brutally and bloodily different story", he said, calling the events of the Troubles "a tragic stain on the history of Northern Ireland".
Mr McCallister said the future of Ireland and the UK lay in partnership and interdependence.
But he said talk of uniting Ireland was a "political fiction" if there was not a shared Northern Ireland where political parties confronted their divisive past with a "new honesty".
Speaking in Newry, Sinn Fein president Gerry Adams said his goal was "to raise awareness about the mutual benefits that Irish unity can bring".
"Of course, as John McCallister has reminded us, to plan for the future we have to deal with the past," he said.
"Sinn Fein has never shied away from this whether on the issue of victims or on other matters," he said.
"Dealing with the past is not easy and there is little agreement at a political level about how we do this. But that should not be an obstacle to the future."