Druids Glen to sell paintings of seven signatories of the 1916 proclamation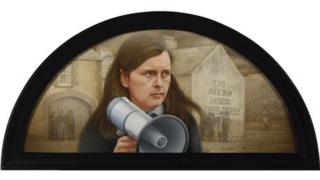 A selection of paintings depicting the seven signatories of the 1916 proclamation are to be auctioned off by a golf club in the Irish Republic.
The portraits have graced the stairway of the Druids Glen Golf Resort in County Wicklow since it opened in 1995.
But the current owners have decided that the paintings no longer suit the "ambience" of the clubhouse and are planning to sell them.
Artist Robert Ballagh, who was commissioned to create the pencil drawings by the club's previous owner Hugh 'Hugo' Flinn, told the Irish Independent he was disappointed by the decision.
"Sadly, Hugo is no longer with us and it seems the new management have decided to divest the house of these proudly nationalist emblems," he added.
"The portraits of the 1916 signatories have been there since Druids Glen opened and I believe they should remain there," he added.
Mr Flinn died last year and the Druids Glen Resort is now headed by chief executive Richard Collins.
Mr Ballagh said he was "shocked" at the 8-10,000 euros (£7-8,500) guide price for the set of seven portraits.
Other lots in the sale, also created by Mr Ballagh, include portraits of Eamon de Valera and John Costello with a guide price of between 1,500 euros and 2,000 euros each (£1,200-1,700), and an oil painting of Bernadette Devlin which has an estimate of 8-10,000 euros (£7-8,500).
"I liked Hugo. I did all of this work at very, very cheap rates but if you look at estimates in the catalogue for the exhibition, they are not selling at cheap rates," said Mr Ballagh.
Respected
The works will go under the hammer in Whyte's "Important Irish Art" auction which takes place in the RDS in Dublin on 28 November.
Ian Whyte, managing director of the auctioneers, defended the guide prices for the paintings.
"There has been good interest so far. Robert Ballagh is very well respected and his paintings are very sought after," he said.
"So they should sell well."
Mr Whyte said the current management of the resort felt it needed to reduce its collection of 30 very similar nationalist portraits.
"They are retaining some of the art in one of the rooms. In the drawing room they have two very large paintings of Edward Carson and Michael Collins.
"Those will stay, along with portraits of Wolfe Tone and Charles Stewart Parnell. There are a lot of sculptures on the grounds, and they are staying too. So it is not like they are throwing everything out."
The money raised will be used to fund a refurbishment of the golf club.
Mr Whyte said the works had been replaced by a temporary exhibition showcasing contemporary Irish artists.
Mr Ballagh's work will be on display for at the RDS in Dublin this weekend ahead of the auction on 28 November.