Report highlights ageing midwife workforce in Northern Ireland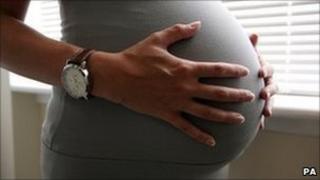 The Royal College of Midwives (RCM) has said more needs to be done to tackle an ageing workforce of midwives in Northern Ireland.
The RCM's State of Maternity Services report is being launched on Wednesday.
It says that in 2002, 36% of midwives in Northern Ireland were over 45, but by 2010 this had risen to 55%.
Breedagh Hughes of RCM Northern Ireland said the region had a static workforce "that is slowly ageing, and their numbers are not being replaced".
"Unless addressed as a matter of urgency this will be a significant challenge in future years, and will only get harder to resolve if it is left," she added,
The RCM said Northern Ireland was adequately staffed in terms of midwives and numbers had "broadly kept pace with the 15% rise in births since 2001".
But Ms Hughes said Northern Ireland could not "rest on its laurels".
"The Royal College of Midwives has worked hard with the Department of Health, Social Services and Public Safety (DHSSPS) to ensure that a sufficient number of new, younger midwives are entering the profession to head off significant workforce problems in the future," she said.
"We are concerned, however, that future financial constraints and an attempt to benchmark staffing levels against those in England, will result in jobs not being available for our newly qualified midwives.
"This is at a time when we really need them to be developing their skills and expertise if they are to replace the very large number of midwives expected to retire in the next few years."