Sammy Wilson using retailers as 'cash cows': NIRC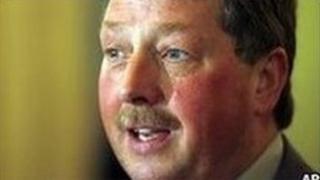 Retailers including Asda and B&Q are being used as "cash cows" by the finance minister, it has been claimed.
The Northern Ireland Retail Consortium (NIRC) made the comments at a meeting of the finance committee in Stormont on Wednesday.
They relate to a plan by Sammy Wilson to have larger firms pay a levy to fund rates relief for small companies.
The minister wants to increase rates for commercial premises with a rateable value of more than £500,000.
The Large Store Rates Levy scheme is expected to affect around 75 stores. They will incur an extra cost of £100,000 per year.
The revenue would then fund an extension of the Small Business Rate Relief Scheme. Thousands of smaller traders across the region would then benefit from a reduction in rates.
Representatives from a number of large stores were invited to discuss the issue at the assembly.
'Wipe out'
Jane Bevis, from the NIRC branded Mr Wilson's scheme a "tax on jobs" .
She said it would mean rates for bigger businesses in NI would be 16 times higher than elsewhere in the United Kingdom.
"It's the modern equivalent of bleeding the patient to restore his health," she added.
Dermot Walsh of B&Q said the company simply could not afford to pay any more rates.
"It would wipe out our entire profit in B&Q in Northern Ireland," he added.
Mr Walsh said all nine of its stores would be affected unlike supermarkets, which had smaller outlets in town centres.
"We think those companies who can afford to pay more are those that should pay more. Those who can't shouldn't be unnecessarily penalised."
Ikea has again stated that the levy would be unwelcome as its store has made a "substantial" loss in the last year.
Iain Joannides, who gave evidence on behalf of the furniture retailer, said sales at its Belfast store had contracted twice as fast as its Dublin store.
Asda spokesman David Paterson said that any levy should not simply be targeted at retailers, but should apply to other major businesses like banks, utilities and airports.