C Diff prompts Royal Victoria Hospital ward restrictions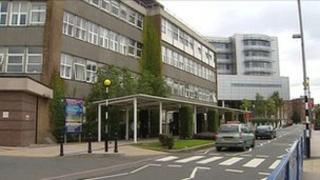 Restrictions have been put in place in a ward of the Royal Victoria Hospital in an attempt to avoid the spread of the superbug Clostridium Difficile.
The Belfast Trust is restricting admissions to Ward 4F, which mainly treats neurosurgery patients, due to two cases of C Diff there.
The bug can cause severe diarrhoea and other intestinal disease.
Families visiting relatives have been asked not to bring children on to the ward.
They are also asked to observe a policy of only two visitors at a patient's bedside.
The trust's director of nursing and user experience, Brenda Creaney, said: "We are concerned about the potential for an outbreak and have therefore put in place stringent measures to protect our patients.
"Any disruption to planned admissions will be communicated to patients directly. We hope the public will support us in this."
The trust say the restrictions are precautionary and that the situation will be kept under review.