Ian Paisley to write 'caustic criticism'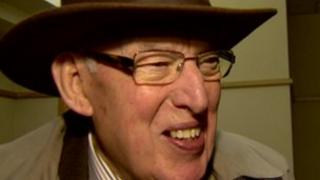 The Reverend Ian Paisley will continue to preach "for a long time," despite his imminent retirement from his Free Presbyterian ministry, he has revealed.
In his first interview since announcing his retirement, he said he would like to do some writing, including "some caustic criticism of some".
The 85-year-old former MP, now Lord Bannside, said he would also continue to carry out "a bit of church work.
He will preach his final sermon in his Martyrs' Memorial Church at Christmas.
Dr Paisley was speaking after arriving at the annual St Columbanus celebration in Carrickfergus on Wednesday.
He was asked about the political aspirations of Martin McGuinness, his former partner in government at Stormont.
He told BBC Newsline he did not think the deputy first minister had any chance of success in the recent Irish presidential election.
"I think he went for it to strengthen his own grip on his own party," he said.
"I think he thought he had better keep his name to the fore."
Asked if Mr McGuinness deserved the "hard time" he received during the campaign, Dr Paisley said: "What the southern voters think of him is his business and their business.
"I'm not interested, I'm not running for minister for Dundalk."
Dr Paisley said he intended to remain active during his retirement.
"I'm going to give up the full-time pastorate," he told BBC Newsline, "but I will still remain the pastor emeritus and I will still be doing a bit of church work.
"I hope people will not forget me, I don't think they will.
"I will have more time to do visitations and go to places I would have liked to have gone when I was in office."
While he is due to preach his final sermon as senior minister on Christmas Day, he said it would not be the last time his voice was heard.
"It will not be the final preaching, you will hear the voice of Paisley for a long time, by the grace of God," he added.
"I think I'm fighting fit. I think my enemies know that, my friends know it. I think the whole country knows it.
"As far as my popularity is concerned, I'm received very graciously by everybody.
"I hope I preach a sermon from the pulpit the night God calls me home to a better land."