Protest disrupts prison visits at Maghaberry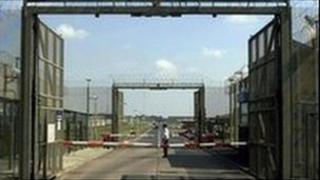 The Department of Justice has announced that all visits to Maghaberry prison will be cancelled on 24 and 25 November.
No family or legal visits will take place on Friday or Saturday due to a planned dissident republican protest outside the jail.
Arrangements will be made to re-schedule all cancelled visits.
Dissident republican prisoners held a four-month protest over conditions in the jail in 2010.
The protest is by a group calling itself "The family and friends support group for republican prisoners Maghaberry."
They have said that they are demonstrating about strip-searching and controlled movement within the jail, and have called for any protest to be peaceful.
The DUP MLA Paul Givan has called the group's demands "unacceptable".
"I have spoken with the prison service and police about their joint operation to manage the protest. If this protest is not peaceful, any disruption or damage to the prison estate cannot not be tolerated, and the police must respond robustly," he said.
Visits to the prison will resume as normal on Sunday.