Dissidents disrupt West Belfast DPP meeting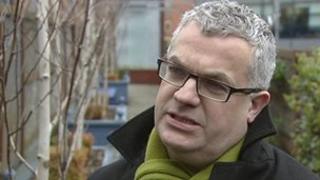 A meeting of the West Belfast District Policing Partnership (DPP) has been disrupted by a dissident republican protest.
The public meeting in Whiterock on Wednesday night was held up by protesters inside and outside the hall.
A dissident republican spokesman read out a statement of protest before normal business resumed.
Councillor Tim Attwood, the chairman of the West Belfast DPP, condemned the disruption.
"People have the right to protest but do not have the right to disrupt or stop DPP meetings," he said.
"There is now a positive dialogue and partnership between the PSNI, the DPP and local communities in West Belfast.
"The vast majority of people support the PSNI and want to see pro-active policing in the community to tackle crime and anti-social behaviour.
"It is important to note that normal business resumed and members of the public questioned the PSNI on important local issues relating to anti-social behaviour, sexual assaults in the area, burglaries and the issue of quad bikes."
Dissident republicans have previously caused disruption at DPP meetings in Londonderry.
A Policing Board spokesperson said: "The board has been informed that a short protest was held at a meeting of West Belfast District Policing Partnership last night.
"The meeting was able to proceed as planned with local people able to question DPP Members and the PSNI on a range of issues relating to policing in the area."