Group rescued after jumping off the County Down coast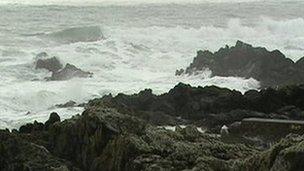 A group of people had to be rescued after jumping off the County Down coast on Saturday.
Paul Symington from the South Down Coastguard, said the group of seven were "bouldering" south of Ballyhornan and were with an instructor.
Three of them got into trouble and had to be rescued. He said they were "one wave away from a tragedy".
Mr Symington said the rescue cost "many tens of thousands" of pounds.
Portaferry and Newcastle lifeboats, the South Down Coastguard and the Irish Coastguard helicopter from Dublin, were all involved.
Mr Symington explained that bouldering involved people jumping off rocks, swimming along to another area and jumping in again.
He said the team "immediately got into difficulties".
"We had a very bad storm raging, there were three to four metre swells and there were waves really baralleling into the County Down coast," he said.
"Three went into the water, two got out reasonably quickly - one with quite bad cuts to his hand - one man was stuck."
He warned about the risks of such an adrenaline-seeking activity.
"People have to weigh up the conditions with the risk and I think on this occasion they made the wrong decision," he said.