Sinn Fein mayor slammed over failure to present award to army cadet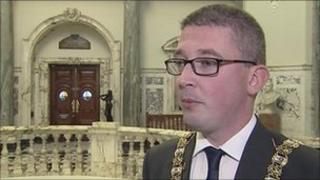 The lord mayor of Belfast has been criticised after he failed to present a Duke of Edinburgh award certificate to an Army cadet force member.
Unionists have said Sinn Fein mayor Niall O Donnghaile's decision not to present the award was "shameful".
Mr O Donnghaile said he was told "at the last minute" that an award was to be presented to a cadet force member.
He said someone else then joined him to present the certificates.
Mr O Donnghaile said he would be happy to meet the cadet and her family to explain his decision.
He said it was "nothing personal".
"At the last minute I was informed that one of the awards was to be presented to a representative of the Army cadet force," Mr O Donnghaile added.
"In order to avoid any unnecessary sensitivities to either party, it was arranged for the outgoing chairman of the organisation to present some of the certificates alongside me.
"Since becoming mayor in late May I have attended over 620 engagements, many of them in working class unionist communities.
"I take my responsibilities as being a mayor for all very seriously."
'Office debased'
DUP councillor Gavin Robinson said the awards were about bringing out the best in young people.
"I think it is a scandal that the lord mayor debased himself and his office, by politicising last night's event," he said.
"Our lord mayor is supposed to be both dynamic and pragmatic. Instead, he has shown just how politically prejudiced he is.
"In fact, he has taken a step back from where his Sinn Fein predecessors were five years ago."
The UUP's Mike Nesbitt said the mayor had "stopped half way through" his presentation and that the remainder of the certificates were presented by a representative of the Duke of Edinburgh awards scheme.
"The problem appeared to be down to the fact that one of the recipients was from the Army cadet force," he said.
"This is absolutely shameful.
"So much for Sinn Fein's fine rhetoric about a shared future.
"So much for an Ireland of equals."
Alliance councillor Maire Hendron, the leader of the party's group on Belfast City Council, said she was "appalled at what happened".
"Being lord mayor is about representing and respecting everyone in the city of Belfast and I am deeply annoyed at Niall O Donnghaile's behaviour," she said.
"The message that this incident sends out is very troubling."
A spokesperson for the Duke of Edinburgh awards scheme said its silver award presentations for Northern Ireland had been held at City Hall in Belfast for more than 20 years, and that "each year the awards are presented by the lord mayor".
"The Army cadet force is one of a large number of youth organisations in Northern Ireland which makes the Duke of Edinburgh programme available to all young people," they said.
"We are deeply saddened that this incident has overshadowed the tremendous achievement and voluntary contribution to the community by all young people who received awards on the evening."