Tree disease found in Moneyscalp Woods, Tollymore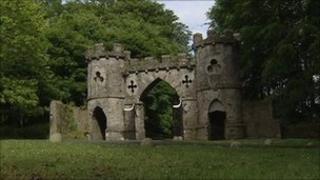 An outbreak of killer tree disease P. ramorum has been confirmed at a new location in Northern Ireland.
The latest discovery at Moneyscalp Woods, part of Tollymore forest park in County Down, was confirmed following an earlier aerial survey of all woodlands.
Fourteen hectares of Japanese larch trees are to be felled immediately to prevent the disease spreading.
The new outbreak is far south of all the previous infections - a real concern for the forest service.
It was hoped that the disease could be contained in an area centred around Country Antrim in the north east of Northern Ireland.
Finding an outbreak so far away from the main infected area now raises fears that more diseased areas could be revealed when the trees start to produce needles next spring.
Six public woodlands and eight private sites in Northern Ireland have already been affected by P. ramorum which targets Japanese larch trees.