NI Assembly backs motion on elderly attack sentences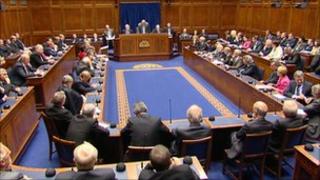 MLAs have voted in favour of mandatory minimum prison sentences for people found guilty of violent crimes against older people.
The DUP's Paul Givan said there needed to be a clear message that attacks on the elderly would not be tolerated and attackers would go to prison.
Mr Givan, who chairs the assembly's justice committee, said public confidence in sentencing was low and there was a need for more deterrence.
The motion passed by 44 votes to 41.
Sinn Fein's Mitchel McLaughlin welcomed the DUP motion, but had some doubts about its wording.
"The use of the word violent might be counter-productive," he said.
Mr McLaughlin suggested the word "harm" as an alternative since this would cover cases where older people had suffered trauma but not an actual physical attack.
The UUP's Ross Hussey was concerned about the challenge to the independence of the judiciary represented by mandatory sentences, while Alban Maginness of the SDLP said he did not believe this was a good way of approaching sentencing.
Stewart Dickson of the Alliance Party said he preferred to trust the judiciary rather than the proposers of the motion.
Justice Minister David Ford was also opposed to mandatory sentences.
"Sentencing in the individual case has to be a matter for the independent judiciary," he commented.
The minister said there was always the possibility of the exceptional case and he supported the principle of judicial discretion.
He criticised the "grandstanding and chest-beating in the assembly this afternoon".