County Down retail park to expand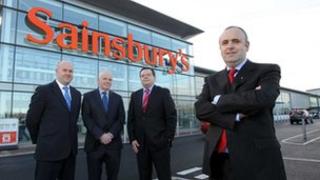 The owners of the Balloo Retail Park in Bangor have announced plans to expand the development.
John Morgan Estates have secured planning permission to add 20,000 sq ft of retail space, covering either one large, or two smaller, retail units.
A 60,000 sq ft Sainsbury's supermarket opened at the park in November.
The development is against the trend in Northern Ireland which has seen property owners either unable or unwilling to make new investments.
Bank of Ireland funded the investment for the new Sainsbury's - that is also against the trend which has seen Irish-owned banks shun commercial property lending.
The letting agents for the park, Lisney, said the opening of Sainsbury's will result in a big increase in footfall, making the park attractive to other retailers.
Lisney director David McNellis said: "We have already had significant interest in the second phase from a range of quality retailers, and we expect even more interest now that Sainsbury's is open and drawing a large number of shoppers."
The Morgan family have a range of business interests including Melville and Co Funeral Directors Ltd and Morgan Document Security, a document storage and records management company.