Belfast-owned building is gutted in Glasgow fire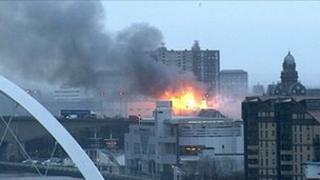 A landmark Glasgow building gutted in a fire belonged to a Belfast property firm.
The former Co-op Funeral Service building in Morrison Street caught fire on Monday.
It was owned by the Benmore Group who bought it in 2007 for a reported £4.2m.
The firm said it was working with Glasgow City Council to assess the extent of the damage before determining the next steps.
In a statement to STV the firm said: "It is a historic building and we were at the early stages of planning a major refurbishment project which would have seen it restored to its former glory, with a number of potential end uses."
At its height, more than 100 firefighters were needed to tackle the blaze at the listed building.
Benmore properties in Northern Ireland include the Adelaide Exchange building and the Westwood shopping centre.
In recent years its focus has been on Scotland and the north west of England.