Laws 'discouraging recruitment': CBI/McGrigors survey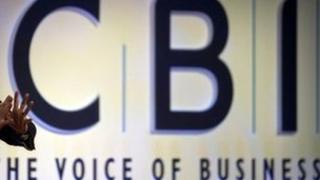 Almost 50% of firms in Northern Ireland say current employment laws are discouraging them from taking on new staff, according to research.
The survey, by the CBI and McGrigors law firm, received responses from around 140 firms, most of which have less than 250 employees.
The government in Westminster is proposing a major package of changes to employment law,
Many of them have been criticised by trades unions.
Powers over employment laws are devolved to Stormont, but the executive has not yet announced any plans for a review.
CBI director Nigel Smyth said that it was disappointing that the executive's programme for government, published last month, did not mention the issue.
Employment law is a sensitive political matter in Northern Ireland. A raft of fair employment regulations have been introduced over the years to tackle religious discrimination.
Those moves appear to have been successful as relatively few fair employment claims are now brought to industrial tribunals.
The CBI/ McGrigors survey suggests that it the introduction of other pieces of legislation that businesses believe is making life more difficult.
'Litigious workplace'
Almost 80% of the respondents said that, in view of employment law obligations generally, Northern Ireland has become a harder place to do business since 1997.
A similar number said that that the current level of employment law creates a more litigious workplace.
Adam Brett, an employment law expert at McGrigors in Belfast, said that the survey could play a part in the debate around Northern Ireland's economic revival.
He said: "To date, much of the debate around economic renewal has tended to focus on corporation tax.
"However, we believe that business and government need to think in broader terms if Northern Ireland is to grow through the tough times that lie ahead."
One of the major changes to employment law being proposed in Great Britain are that staff who work for businesses with 10 or fewer employees could lose their right to claim unfair dismissal.
Further proposals, referred to in the chancellor's autumn statement, include changing the so-called Tupe regulations, which unions argue are vital to ensure that workers do not suffer cuts to pay or worse conditions when their jobs move to private firms.
Peter Bunting, assistant general secretary of the Irish Congress of Trades Unions, said he was surprised that employment law was being pointed to as a barrier to job creation.
"In other surveys over the the last number of years, the main issue affecting job creation has been the lack of credit available from the banks," he said.
He added that he was concerned about any attempts to undermine protection for employees.
"We heard the same drivel in regard to the introduction of the minimum wage and it didn't impact negatively on job creation or job retention."