Robert Clarke conviction over Alfredo Fusco murder challenged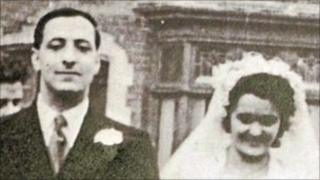 A loyalist's murder conviction was wrongly used at his trial for the separate killing of a chip shop owner, the Court of Appeal has heard.
In April, Robert James Clarke, 59, was sentenced to a minimum of 25 years for murdering 53-year-old Alfredo Fusco in his north Belfast cafe in 1973.
However, he is likely to serve just two years under the terms of the Good Friday Agreement.
On Monday, the judges hearing the appeal reserved their decision.
Counsel for Clarke argued that mistakes were made in allowing bad character evidence which contributed to him being found guilty of the sectarian murder of Mr Fusco.
It was claimed that a medical report identifying difficulties in Clarke being capable of firing a pistol due to the loss of two fingers in an industrial accident was not properly considered.
Frank O'Donoghue QC told the three judges hearing the appeal: "If I had managed to keep out the bad character evidence in this case I don't think there is anybody in this courtroom who would disagree with the proposition that the dynamic of this trial would have been very different indeed."
Two gunmen went to the 53-year-old victim's fish and chip and ice cream shop on the night he was shot.
He was chased into the storage area by one attacker armed with a machine-gun.
But when the weapon jammed the killer went back out to his accomplice and swapped weapons, using a Webley revolver to shoot Mr Fusco as he tried to barricade himself behind a door.
The case was reopened by the Historical Enquiries Team after new fingerprint technology allowed them to identify Clarke's prints on Mr Fusco's cafe door.
Machine gun
Clarke declined to give evidence at his trial, which also allowed details of his subsequent murder conviction for the sectarian drive-by shooting of 58-year-old north Belfast woman Margaret O'Neill two years later in June 1975.
A sub-machine gun was used in that attack.
Opening Clarke's appeal, Mr O'Donoghue contended that such bad character evidence should not have been admitted if it did not show he was more likely to have been Mr Fusco's murderer.
The barrister claimed too generalised an approach was taken, without enough focus on whether his client's disabled right hand meant he was able to pull the trigger on the Webley.
However, Gordon Kerr QC, for the prosecution, argued however that the admissibility issue was properly handled.
He also pointed out that the killer had entered the cafe with a sub-machine gun and tried to fire it.
"There was proof from the convictions that he was capable of doing so," Mr Kerr said.
He added: "Common case among the doctors is that it's perfectly possible for this man to have fired either double handed or with his left hand."