Invest NI launching loan fund to help very small firms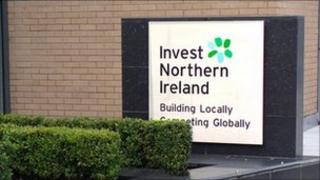 Invest NI is to launch a new £5m loan fund aimed at assisting very small firms, known as micro-businesses.
It is understood it will offer small enterprises loans of up to £5,000 to see them through difficult trading periods.
The scheme is expected to be launched in spring 2012.
It will run alongside the £50m Growth Loan Fund which is funded by Invest NI, and the Local Government Pension Scheme for Northern Ireland (NILGOSC).
Latest figures from Invest NI show that despite the difficult economic climate, the organisation is on track to meet its job creation target for this year.
They show 3,272 jobs have been promoted so far this year which are expected to materialise over the next five years. So far 271 of these jobs are in place on the ground.
The agency says it does not know yet if it will soon be handing back any more of its budget to the executive as part of the January monitoring round.
That process happens several times a year when an organisation's spending is compared to its income - and any surplus is returned.
It recently emerged that Invest NI had a surplus of £17.5m of unspent money which it offered back to the Department of Finance in the previous monitoring round in October.
The under spend was blamed on firms postponing their investment plans due to the difficult economic climate.
A spokesman said: "The process (in relation to the) January monitoring has not yet been concluded within Invest NI so I'm afraid I can't provide anything further at this stage."
It is understood that Invest NI is lobbying to be given more flexibility in the management of its budget which would allow it to carry over unspent funds.